Trevor Hayley
Funeral and Life Memorial Celebrant
A Caring Presence for you and your family so you can Celebrate a Life
Servicing Greater Adelaide, Fleurieu, South Coast and Adelaide Hills Regions of South Australia
The Bits and Pieces of Estates – Dad's Journey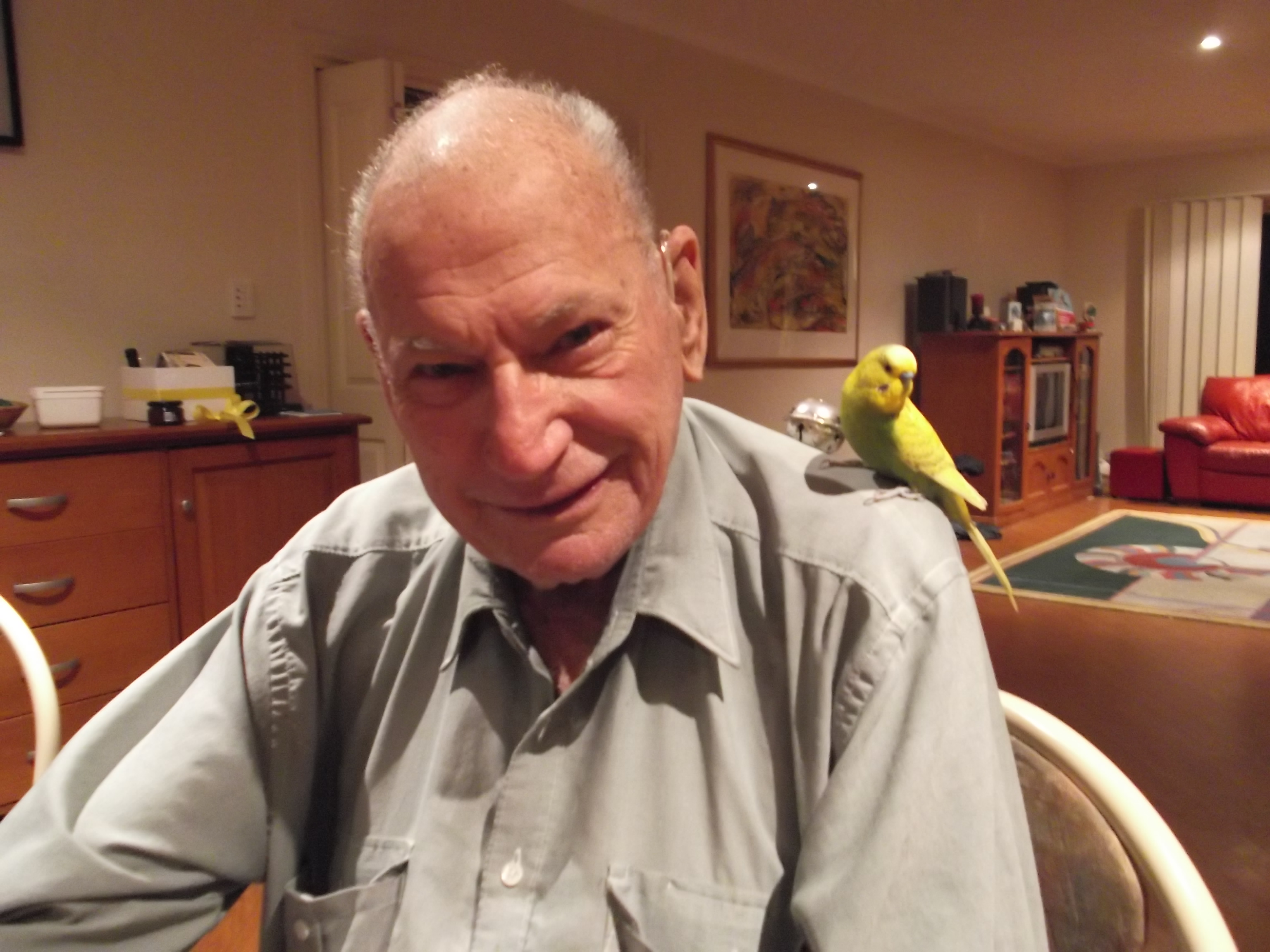 Expressing your wishes #6
Dad with 'Buddy' who we have discovered escaped his cage and never returned. Continuing on with this series with what happened with my Dad a few years back, when he died. I do miss him, and wonder how he is in his new journey. I have already looked at the following topics in this series:
And to round this series about Dad out, I thought it would be good to share some other little tips we discovered on the way.
Let's start with the biggest asset first; and that is the unit that Dad was living in. As a 'right to occupy' arrangement, the Estate was entitled to 70% of the current market value. Of course this meant waiting for a buyer, working out whether we would 'doll' up the unit with some furniture to make it more attractive, which we didn't. The big thing here was to communicate with the residential complex, and to be very, very appreciative when they did anything for us. We did enjoy a wonderful relationship which helped immensely.
We discovered something about cars. Before they can be sold, they need to be transferred into the name of the Estate. I think I discovered this when I went down to Motor Registration to cancel Dad's licence. It was just a matter of filling out a form, and of course they needed to have a certified copy of the death certificate. Have about twenty of these, because many people want one.
There were many small refunds that came our way. When we cancelled the Driver's Licence, when we advised the health fund he had died, there was a credit owing on both electricity and telephone which was great, cancelling home and car insurance. Businesses that we dealt with were very helpful, and often advised us that a refund was coming. Centrelink even part paid the final pension for Dad, which was unexpected. Funds were banked very quickly, as I would hate to lose any of them.
In fact the world does not know of a death until they are told. Any mail that came in, I would make a courtesy call advising that Dad had died, and to take him off of their records which would, hopefully, stop any future correspondence. We also redirected the mail for a couple of months.
When we had some excess funds, I did open a couple of short term, term deposits just to maximise interest.
Of course there are more things to consider in this digital age. Things like our social medial accounts will need to be closed down at some point. Make sure you let people know where all of your login information is.
So with letting people know, tax, and banks we were all done within a couple of years. We were able to make our final distributions, and so armed with a box of chocolates to both the bank and Dad's financial planner, said that all was done. To this day, I still have all the records, including a statement of income and expenses saved in digital format, just in case.
Thank you for reading this series, and I trust it has been helpful. In our case, the Estate was simple, but for others of you, they can be rather complex. As Executors, you are legally liable for any mistakes, so please seek professional advice if you are not sure. I am not an expert, I just ensured I followed due process. I can almost feel Dad smiling down on us, knowing he did all he could to make everything as easy as possible.
The commentary in this blog is intended to be general in nature. It is just some observations from one fellow traveller in life to another. If anything in this blog raises issues for you, please call Lifeline on 13 11 14 or consult with a trusted medical professional. There is definitely some family discussion required here, together with legal advice.
Photo courtesy of the 'Hayley Family Vault'